From the halls of government to the aisles of mainstream markets, the plight of farmed animals is inspiring compassion and action. In 2022, Mercy For Animals India drove major progress towards a kinder future.
Securing a Vegan Food Label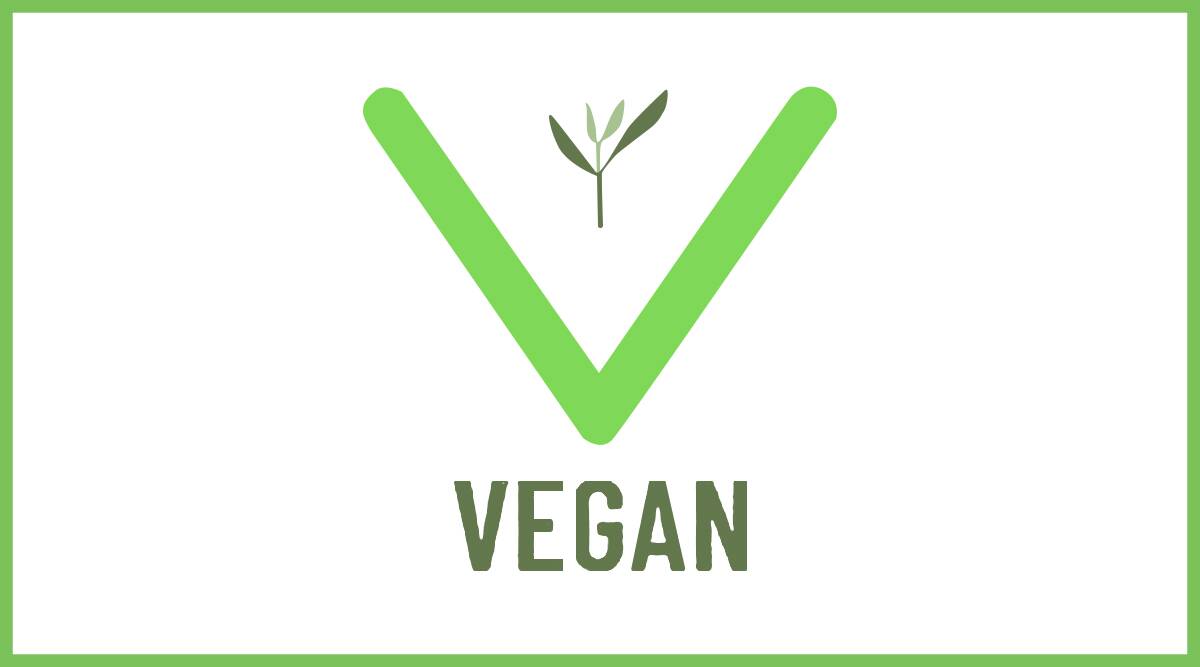 In perhaps our most significant win in India to date, Mercy For Animals India worked with the Food Safety and Standards Authority of India (FSSAI) to make labelling vegan foods mandatory. Currently, all food products are labelled veg or non-veg. But after two years of encouragement, FSSAI adopted our proposal to require every vegan food product to have a distinct label. The new label is expected to positively impact demand for vegan foods in India. The rules received massive public support, as a consumer survey reveals:
96 percent of respondents supported the proposed rules.

95 percent of respondents felt this type of labelling would make it easier for consumers to try vegan products.

93 percent of respondents said they would be more willing to try vegan products after the label was added.

97 percent of respondents felt this type of labelling would make identifying vegan foods easier for consumers.
Partnering with Celebrities to Help Animals
Bollywood stars are helping Mercy For Animals shine a spotlight on farmed animal suffering and change the systems that perpetuate it. Sonakshi Sinha is one such star, with a combined social media following of six crore people. Sonakshi appeared in a public service ad for Mercy For Animals India, encouraging her followers to love and respect all animals. Sonakshi wore a cool Mercy For Animals T-shirt that highlighted her compassion for animals. Indeed, Sonakshi has a heart of gold.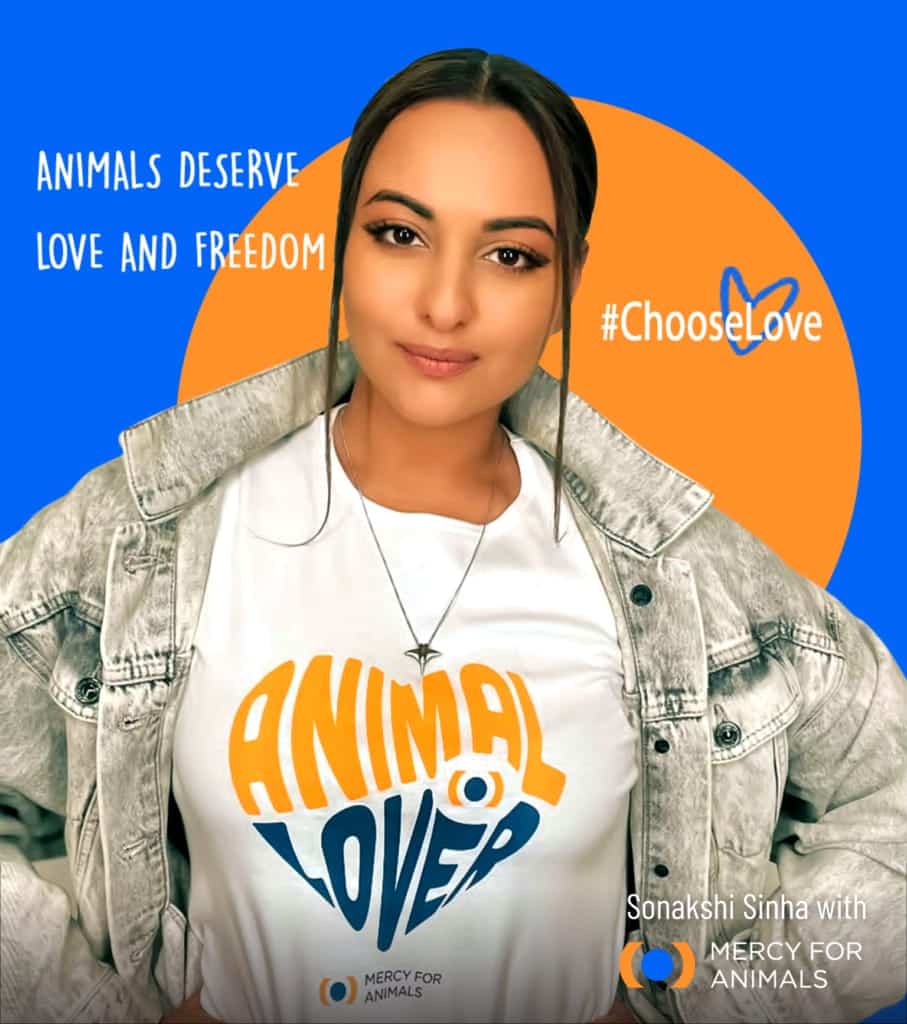 Soon after he learned about the plight of pigs in the meat industry, longtime Mercy For Animals India supporter and Bollywood superstar John Abraham sent an letter to the minister of fisheries, animal husbandry and dairying urging a ban on the production, use, and sale of cruel crates that confine mother pigs across India.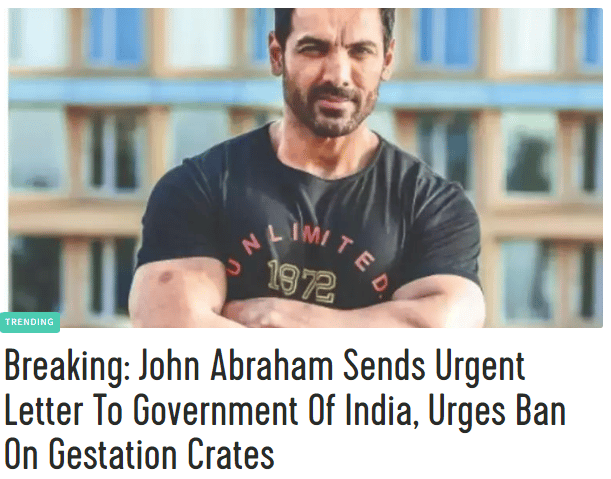 Ending Extreme Confinement
Momentum for banning extreme forms of animal confinement is increasing across the country. This year, after outreach from Mercy For Animals India Foundation and other animal protection groups, about 15 states so far, including Delhi, Uttar Pradesh, Mizoram, and Uttarakhand, have banned the use of gestation and farrowing crates to confine pregnant and mother pigs. More states are expected to follow.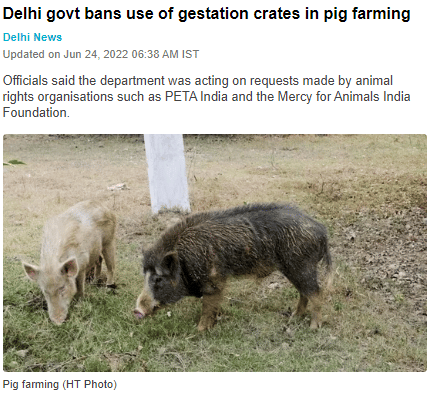 Nearly 40 crore hens languish in cruel battery cages in India's egg industry. To raise awareness and promote an end to this abuse, Mercy For Animals held several eye-catching demonstrations demanding a ban on cruel cages for hens. At least 85 media outlets across India have covered the demonstrations, including international newswire agencies AFP and Reuters.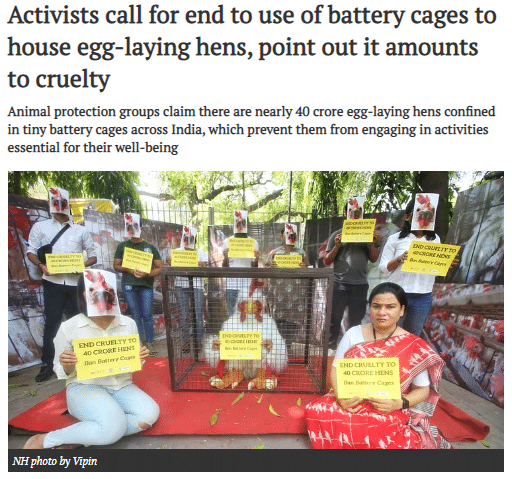 Promoting Public Health
We made progress in our collaboration with leading public health institute The George Institute to establish the Centre for One Health Research. The first draft of a narrative review has been circulated and, once finalised, will be submitted for publication in the international journal Planetary Health. The centre will be the first of its kind in India to study areas connecting public health and animal agriculture. The centre aims to strengthen the research and policies around zoonoses—diseases capable of spreading from nonhuman animals to humans. Centre partners propose a series of virtual expert group consultations to share knowledge and initiate a multisectoral and multidisciplinary dialogue in the area of One Health in India.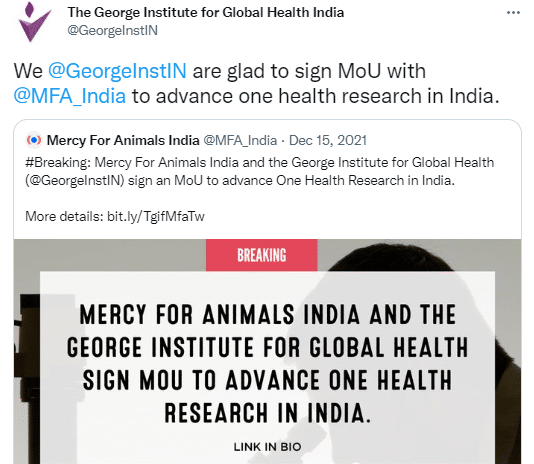 Empowering Advocates and Growing the Movement for Farmed Animals
We are in our second year as a knowledge partner for the Ahimsa Fellowship programme sponsored by Ahimsa Trust and powered by People For Animals. The Ahimsa Fellowship programme aims to create a network of effective animal welfare leaders adept at working closely with state governments and district administrations to enforce animal protection laws in India. This year, experts from Mercy For Animals India mentored fellows with in-depth training in India's current legal and regulatory framework. This programme will facilitate their leadership in advocacy efforts towards securing and implementing favourable animal welfare policies.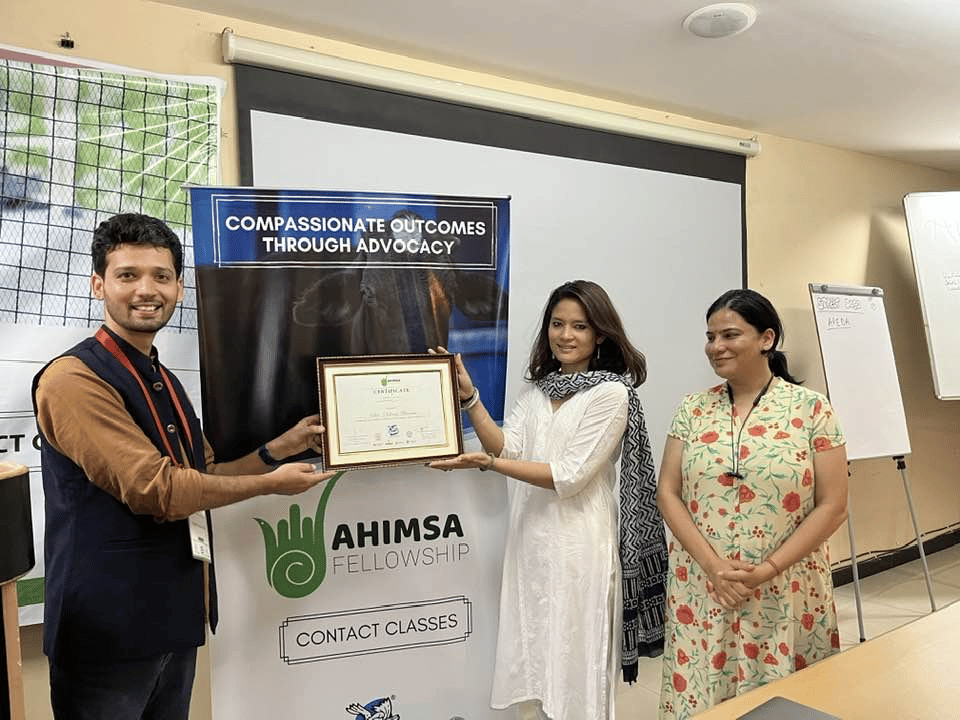 Our major wins and consistent progress have inspired activists far and wide. Mercy For Animals India now has a volunteer base of over 400 activists across the country. Our growing team is strong and excited to continue creating a better world for farmed animals.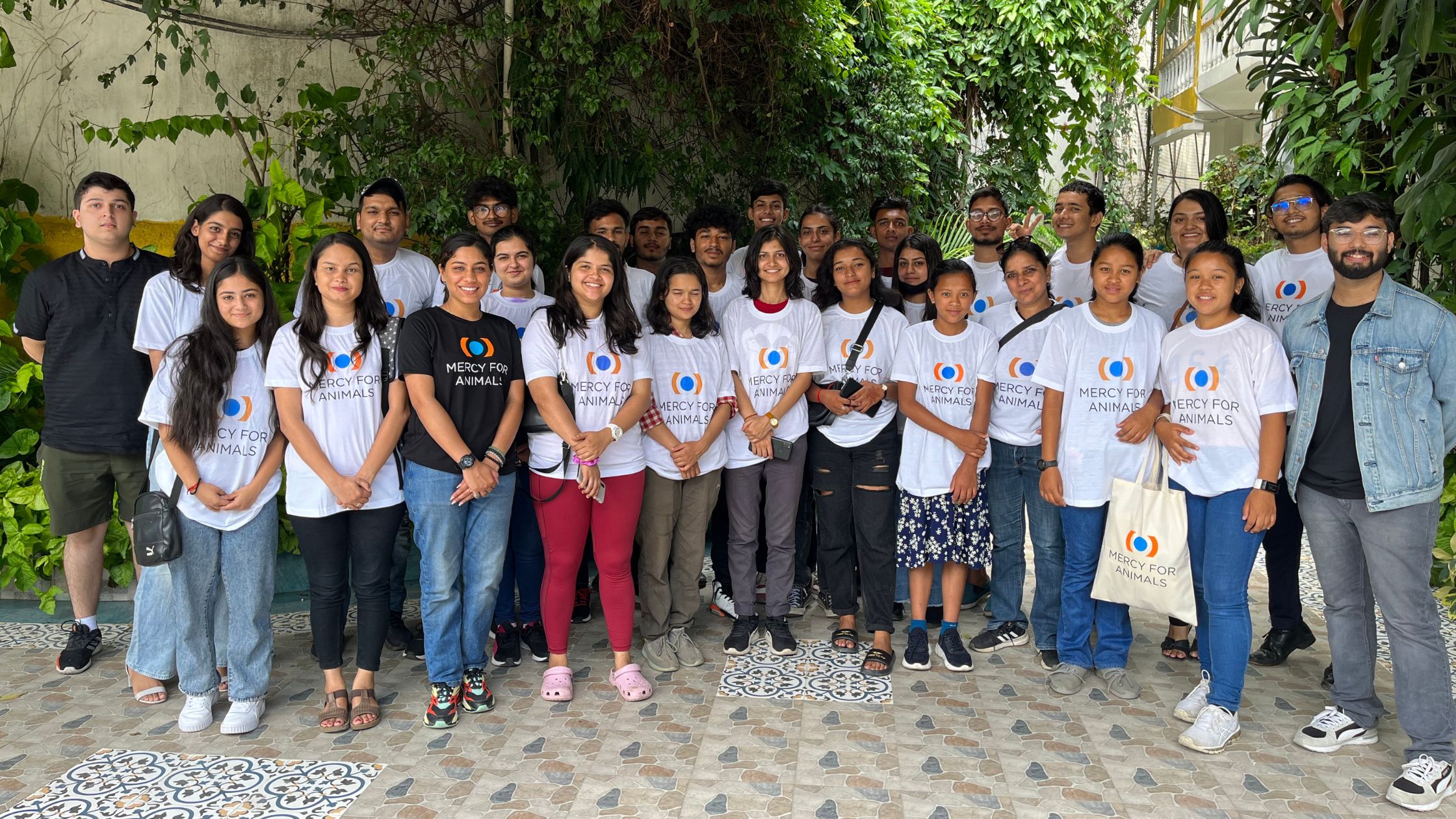 For World Vegan Month we sent packages full of Mercy For Animals merchandise to several celebrities and influencers. Our hoodies were an instant hit with celebs like Sadaa Sayed, Mallika Sherawat, Ayesha Takia, Sonakshi Sinha, and Digangana Suryavanshi.
Mercy For Animals India Foundation was a proud exhibitor at the Himalayan Vegan Festival in Nepal. Vegan activists, athletes, chefs, health professionals, nutritionists, educators, entrepreneurs, and celebrities from across the region came together to organise and host the festival.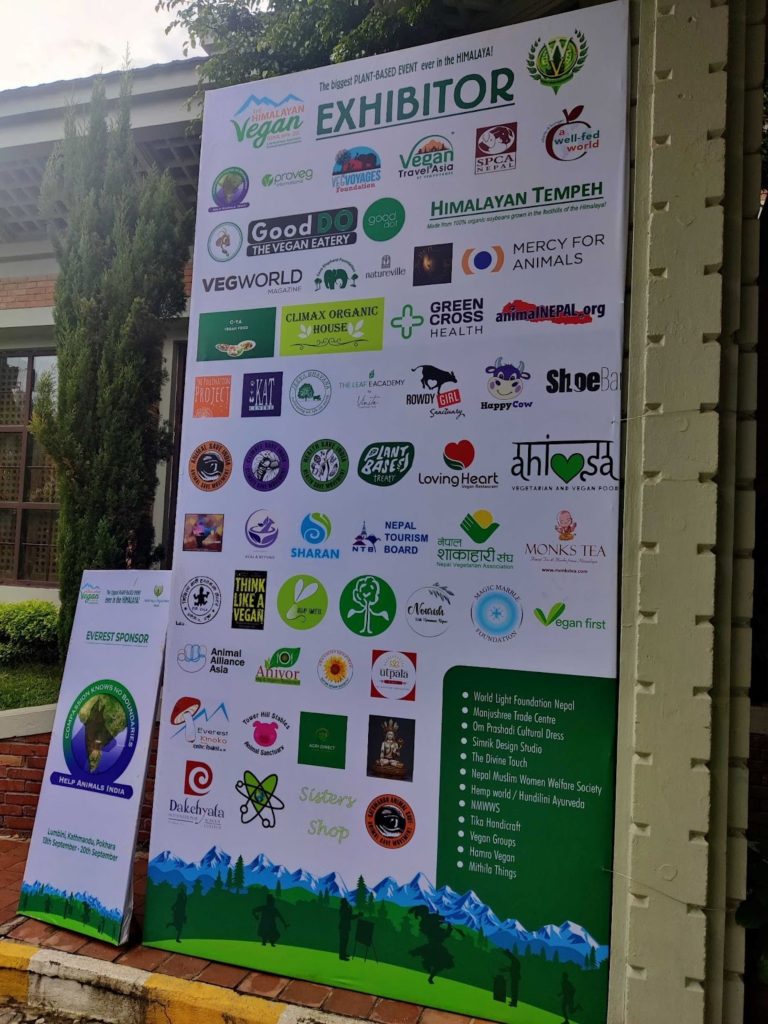 Encouraging Plant-Based Menu Options
Mercy For Animals India Foundation sent a letter to the Indian Railway Catering and Tourism Corporation urging it to introduce vegan food products on train menus to make travel more comfortable for its vegan customers and take a step towards becoming a pro-health, climate-conscious company. This move came after Indian Railways announced the introduction of an all-vegetarian menu for the journey from Delhi to Katra on the Vande Bharat Express.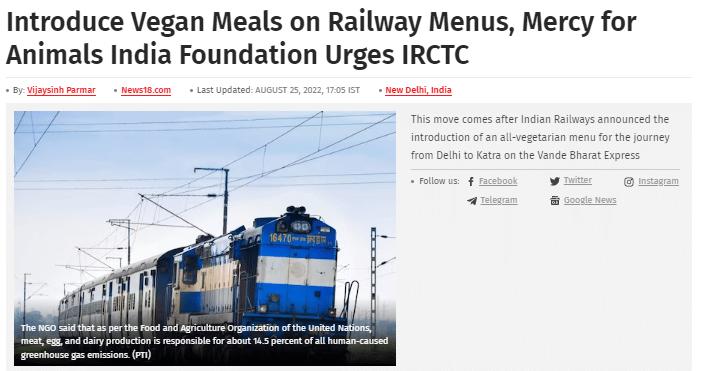 At Mercy For Animals India Foundation, we are determined to make 2023 a kinder year for animals. But we need the compassion and generosity of supporters like you to fuel our vital work. Right now, thanks to a generous donor's match, your gift can go twice as far for animals who need our help. You can make a contribution here.