Sarada Kuragayala, a 44-year-old Bapatla native, has summited Mount Kilimanjaro—the tallest mountain on the African continent and the tallest free-standing mountain in the world. Her feat is not only extraordinary but unique, as she is the first vegan Indian woman to reach the top of the mountain. A journalist by profession, Sarada has long promoted plant-based eating. Mercy For Animals India reached out to Sarada to congratulate her and learn more about her journey.
What inspired you to scale Mount Kilimanjaro?
I was always an adventurous woman, but for climbing Mount Kilimanjaro, my mentor Anand Bansode is the reason. He encouraged me to aim high and inspired me to do something that would make me proud of myself.
When did you choose a vegan lifestyle and why? How did your loved ones react?
I have been strictly vegan for the past five years. I was inspired by the vegan community in the United States. Talking to them made me realise that consuming meat and dairy products causes suffering. My family is filled with pet lovers. Since my childhood, I've had great exposure to animals. So it was easy for me to become vegan because of my love and empathy for animals.
My parents are both teachers. They are open-minded and know how to respect others' decisions. Though they aren't fully accepting of the fact that I don't eat curd or drink milk—something that has been deeply ingrained in Indian food habits—they accepted my decision well.
Out of all the climbs you have undertaken, which was the toughest and why?
I've never thought of any trek to be tough, since I prepare myself both mentally and physically before climbing.
But trekking to the peak of Mount Kilimanjaro was a unique experience for me. The entire trek is six days, and we trek for two days straight. It's sheer willpower that gets you to the peak. Once you start thinking about giving up, you would surely feel that the trek is extremely hard.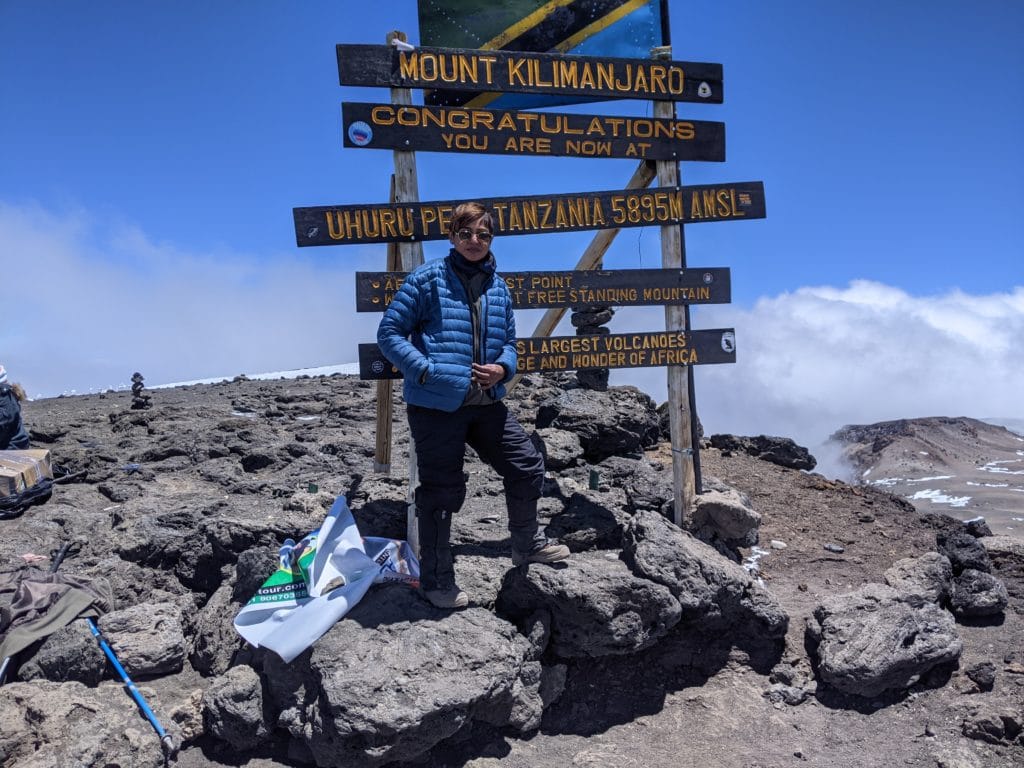 What reaction do you get from the public when they realise you are vegan yet reaching some of the world's highest peaks?
I think veganism is a relatively new term to most of the general public. So when you tell them that you don't drink milk or eat curd or meat, they find it abnormal. Some ask if it's a religious principle. Someone asked if it was a disease. But these reactions are expected because we have set beliefs about the food we eat. For example, we think drinking milk is the only way to get calcium—which is wrong, and there are many foods, like green leafy vegetables, pulses, etc., that can give us calcium. That is the reason why my aim was always to make people understand that a vegan diet can give us the strength equivalent to any non-vegan diet.
How did plant-based eating help you in your quest to summit Kilimanjaro?
To begin with, a plant-based diet has made me guilt-free. I feel proud to be vegan and not contribute to the pain any animal goes through. So a plant-based diet has helped me be happy and mentally healthy.
Also, a plant-based diet isn't much different from regular South Indian food. We just skip eggs, meat, and dairy products. It is a good source of energy, rich in vitamins, nutrients, proteins, and fibre. This food combined with good training, workouts, and yoga helped me so much in walking at the higher altitudes where even breathing is hard.
What did your diet look like while you were training? What were your main sources of protein?
While training, I made sure I had a balanced diet. I used to eat regular South Indian breakfast along with a plant-based protein-powder shake, brown bread, and homemade peanut butter. I ate rice and soy chunks with dal, cooked lentils, sautéed vegetables, tofu, and greens for lunch and dinner. I also regularly switched rice with local millet.
I also made sure to eat nuts, seeds, and dried fruits every day. I take supplements for B12, as it isn't something found in a vegan diet. Tofu, soy chunks, lentils, chickpeas, millet, and soy milk were my main sources of protein. 
What are some of the challenges you face while mountaineering?
I am not a professional mountaineer. The only experience of going to a high altitude before I went to Kilimanjaro was on a trek to Amarnath. Breathing is the main challenge at higher altitudes. But I've been practicing pranayama since January 2021. It helped me a lot. Another challenge would be the unpredictable weather on Mount Kilimanjaro. We could never say when a forceful gust of wind would hit us. I was mentally prepared to face this weather thanks to the research I'd done beforehand and the advice from people who'd trekked to the peak of Mount Kilimanjaro. Nature always gives challenges to human beings. But nature shows us the answers too.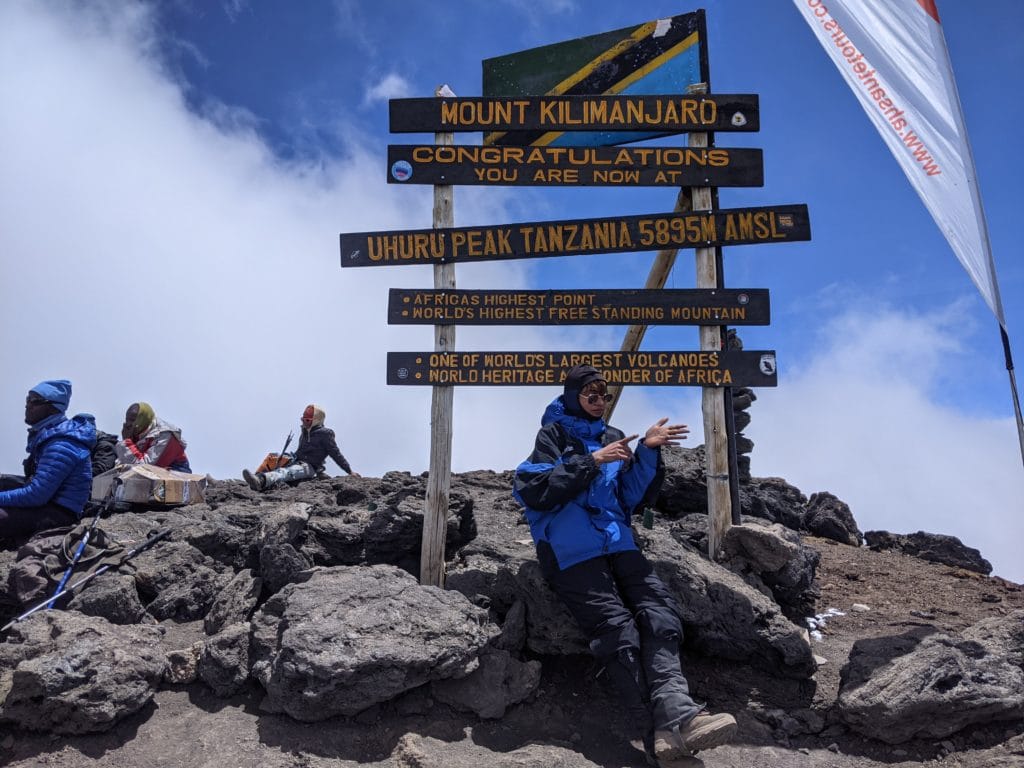 Was the equipment you used to scale the mountain vegan-friendly? Is it hard to find gear that doesn't involve animal cruelty?
I rented most of my equipment from mountaineers whom I know. I could not buy any equipment, as I had no sponsor and had to take help from my near and dear ones. I made sure that the equipment I rented was vegan-friendly, mainly consisting of cotton and aluminum.
It's easy enough to source gear that doesn't involve animal cruelty with good research. But buying from brands that specialise in making cruelty-free mountaineering gear would be hard, as most of them are based abroad, and given the pandemic situation, delivering to India would be a huge feat.  
What would be your advice to people considering plant-based eating?
Taking it one step at a time is the key here, or it would feel like a huge deal.
If someone wants to turn vegan, they can start by cutting down the number of meals including meat week by week or by eliminating a certain type of meat each week. Same goes for people who find it hard to quit dairy products. There is no definitive way in this. Finding what would work best for you is always important.
Also, if there is a certain food that you cannot quit, like cheese or milk, it is all right. Quit the other non-vegan foods, and focus on cutting down the one certain food you cannot quit. But always remember that one reason why you wanted to turn vegan every time you find it hard.
Veganism is a way we can minimise a lot of cruelty and suffering.