August 2021 marks Mercy For Animals India Foundation's fifth year. To celebrate this joyous occasion, we present some of our major achievements over the past five years in reducing suffering and promoting compassionate food choices and policies.
Mercy For Animals India partnered with one of the country's leading public health institutes,

The George Institute for Global Health India

, to establish the

Centre for One Health Research

, the first research centre of its kind in India that aims to strengthen research and policies around animal-borne diseases. The centre proposes a series of virtual group consultations with experts to share knowledge and initiate a multisectoral and multidisciplinary dialogue in the area of 'one health' in India.
On the occasion of our fifth anniversary, John Abraham appeared in a new Mercy For Animals ad encouraging people to be kind to animals. The ad's tagline reads, 'In a world where you can be anything, be nice.'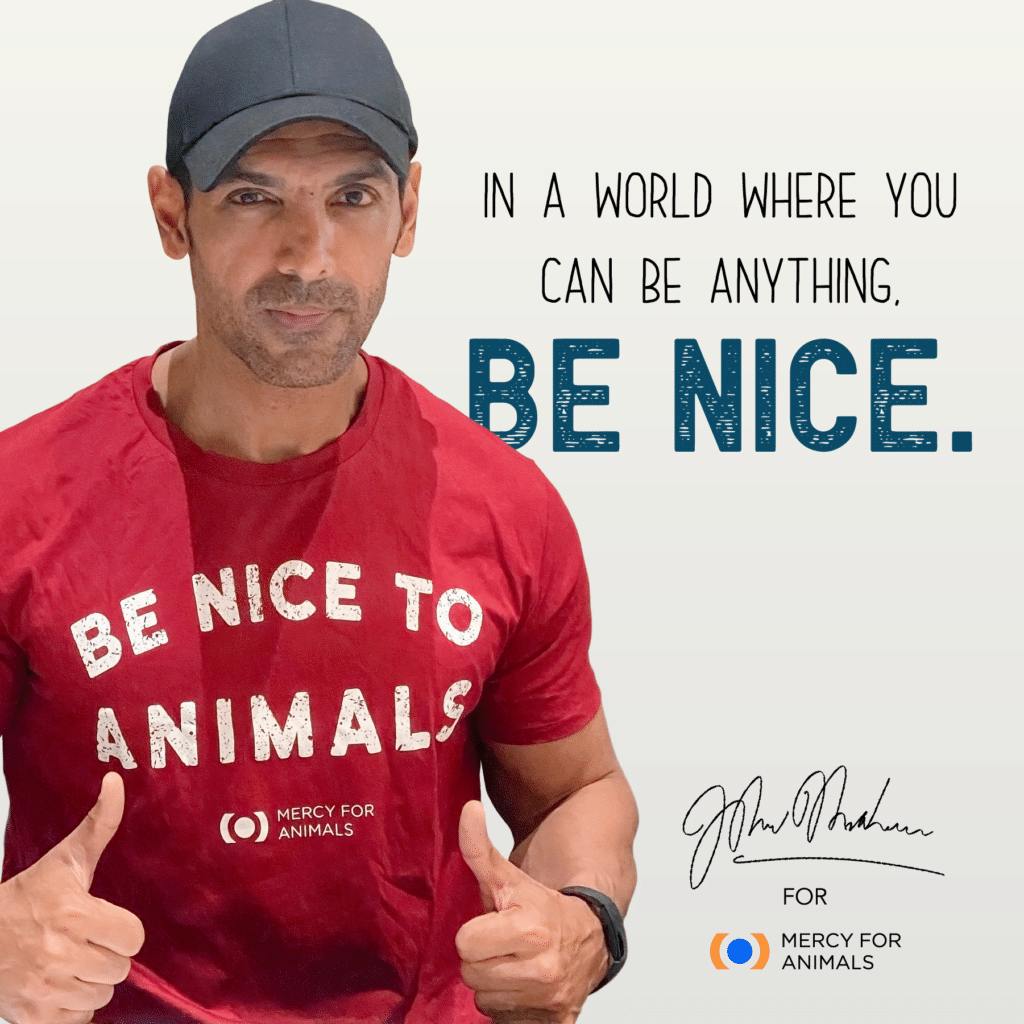 Mercy For Animals India partnered with People for Animals, HSI India, and Ahimsa Trust for the

Ahimsa Fellowship programme

,

India's first-ever fellowship programme on animal welfare

! The animal protection movement in India requires trained professionals who can become welfare leaders. The Ahimsa Fellowship programme aims to create a network of effective leaders adept at working closely with state governments and district administrations to enforce animal protection laws in India.

Check out the programme via this video.
We partnered with chefs, nutritionists, and other professionals in the food industry across the country to incorporate plant-based dishes into the menus of schools and corporations through our

Conscious Eating India

programme.
Several celebrities and public figures have supported our work to promote compassion and encourage plant-based eating, including Sadaa Sayed, Anushka Manchanda, Sanam Puri, and John Abraham.
 

Mercy For Animals, along with People for Animals and Ahimsa Trust,

submitted a representation

to the Food Safety and Standards Authority of India (FSSAI) to promote plant-based foods as part of their Eat Right India campaign. After this, FSSAI released a host of advisories and posters encouraging plant-based eating on their

website

and through social media.
Include Protein-rich, plant-based food to your diet from today to build a strong body and good immunity. #EatRightIndia #SwasthaBharat #HealthForAll #plantbased @MoHFW_INDIA @drharshvardhan @MIB_India @PIB_India @mygovindia pic.twitter.com/QbEm5MAEEH

— FSSAI (@fssaiindia) August 4, 2020
We pushed FSSAI to set up a

vegan task force

to advocate plant-based eating. One of the objectives is to advise the government on mandatory labels for vegan products.
Mercy For Animals India Foundation submitted a representation to FSSAI to make labels

on vegan products

and will continue to advance this project. Currently, India has mandatory labels for vegetarian (green dot) and non-vegetarian (brown dot) products.
 

Member of Parliament and well-known animal activist Smt. Maneka Gandhi recorded a public service announcement for Mercy For Animals India to highlight the plight of animals raised for milk. In the PSA, titled '

The Dark Truth of the Dairy Industry

,' Smt. Gandhi talks about the horrific abuse of cows, buffaloes, and calves in India's dairy industry.
https://www.instagram.com/p/COcH9W4J0–/?utm_source=ig_embed&ig_rid=8765c421-28c7-4298-900e-3e8b9352e5ef
The past five years have been incredible, and we will continue to speak out against animal cruelty and strive for a better food system for all. The compassion and generosity of supporters like you drive this vital work.
HELP US ACHIEVE MORE VICTORIES FOR ANIMALS BY DONATING TODAY