The terms 'alternative protein' and 'plant-based protein' have caught people's attention since the COVID-19 outbreak in India. Animal protein has paved the way for alternatives derived from plants that are just as delicious but do not raise ethical and sustainability concerns. While the pandemic has made life challenging, it has also brought attention to the treatment of animals in abattoirs and slaughterhouses. According to a recent Mercy For Animals survey, more than 75 percent of respondents said they had reduced their animal meat intake during the pandemic over safety and health concerns.
The Indian prime minister's televised address to the nation on 12 May 2020 emphasized India's need to recognise the importance of local manufacturing, local markets, and local supply chains. With the mantra 'Vocal for Local', he said that India had come to appreciate their importance through COVID-19.
Here are a few Indian companies that are leading the shift from animal meat to plant-based meat:
GoodDot gets its name from a goat named 'Guddu', who along with his chicken friends was rescued from slaughter by the GoodDot proprietors. The brand's aim is to revolutionise the future of food with scalable products that are affordable and accessible to all. Of the company's wide range of plant-based meat products, the recently launched Vegicken Curry is our favourite. Interestingly, some of GoodDot's products have reached near price parity with their animal-based counterparts in India. This makes the brand an invaluable part of the country's alternative protein sector. GoodDot products are available throughout India via the company's website and on Amazon.
GoodDot also operates a fully vegan kiosk chain called 'GoodDo' in Udaipur and Mumbai. GoodDo's crispy fried chicken rivals KFC's in taste and texture. Fries, spring rolls, wraps, burgers, meals, Coke, and ice creams are also on offer at the kiosks.
Vezlay, one of India's first soya product suppliers, manufactures a host of healthy, nutritious, and savoury vegetarian and vegan products and retails across the country. Vezlay's assortment of frozen and unfrozen veg meats, soya bhurji, shami kebab, veg chicken, soya noodles, and more has something for everyone. Some of the unfrozen products are available on Amazon.
Veggie Champ manufactures and retails a range of vegan and vegetarian meat products, such as fajita fillets, sausages, salami, burger patties, and prawns. The vegan Galawati kebabs, which are hard to tell from traditional Galawati kebabs, are a must-try. Shop for Veggie Champ's products via this link.
Blue Tribe, manufacturer of brilliant plant-based chicken products that taste like the real deal, are relatively new to India's vegan scene. Both the chicken nuggets and chicken keema are outstandingly delicious. Mercy For Animals India recently organised the 'Chicken Out' contest with Blue Tribe.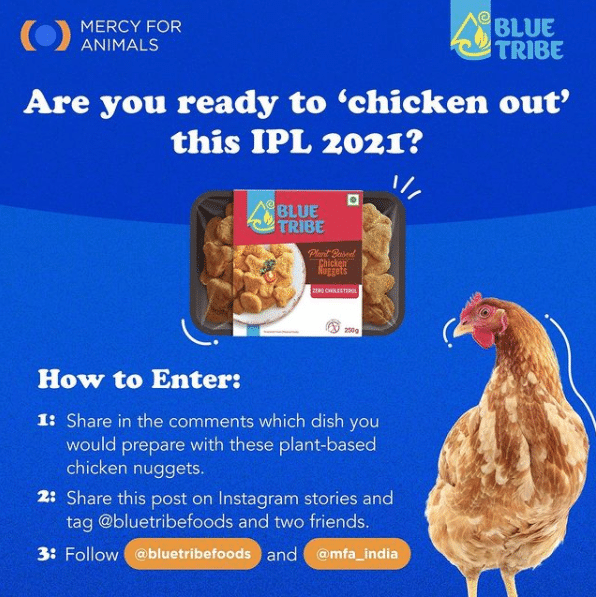 Wakao Foods, hailing from Goa, India's smallest state, dazzles customers with burger patties and stir-fries made with jackfruit. All Wakao products are preservative-free, require no refrigeration, and have a shelf life of one year.
Mumbai-based Forever Flora manufactures plant-based protein that is free of soy, GMOs, and preservatives. Shop for BBQ Bites, pepperoni, steak, brisket, sausages, and burger patties here.
Swapping animal meat for tasty plant-based meat has never been easier. In fact, the brands above deliver their products straight to your doorstep.
It's no secret that animals endure immense cruelty in factory farms—forced to live in cramped, filthy, and crowded environments, which are perfect breeding grounds for viruses that can "jump species" and spark a pandemic. As we consider a 'new normal' for us humans, we must also envision a new and better life for animals.